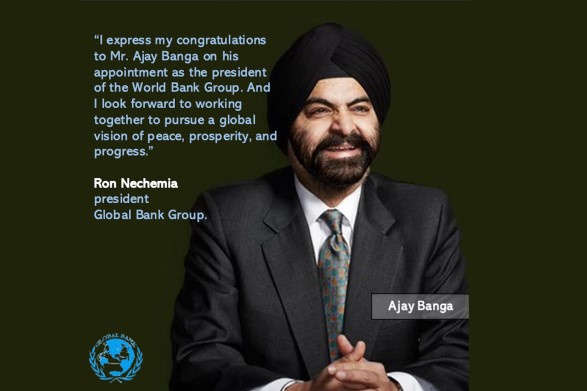 Ron Nechemia expresses his congratulations to Mr Ajay Banga on his appointment as the President of the World Bank Group
Newport Beach, CA ––– May 3, 2023 ––– The Chairman of the Global Bank Group, Ron Nechemia (@RonNechemia), issued the following statement regarding Ajay Banga's appointment as the President of the World Bank Group for a five-year term beginning on Friday, June 2, 2023: "I take this wonderful opportunity to express my desire to establish, strengthen, and maintain excellent official and personal relations between our two institutions."
"I express my congratulations to Mr Ajay Banga on his appointment as the President of the World Bank Group. He brings to the World Bank Group an impressive track record of experience gained in large-scale private-sector financial services companies, a commitment to sustainability, and business leadership. I look forward to working together to pursue a global vision of peace, prosperity, and progress, as well as to strengthen our two institutions and maintain a strong collaboration to tackle the toughest development challenges confronting humanity," said Ron Nechemia, the President of the Global Bank Group."
Working together with the World Bank Group for more effective development cooperation
Global Bank Group is determined to address global challenges with the World Bank Group, including infrastructure actions, support of measures to address climate change, urbanization, rural development, disaster recovery, and building and sustaining a more democratic world. The Global Bank Group is consistently and systemically stepping up its engagement with multilateral development banks, including developed and developing countries, to address these challenges.
Expanding Bilateral Cooperation
President Ron Nechemia said he wants to "expand bilateral cooperation" on a wide range of issues, including energy and climate change and the post-war reconstruction of Ukraine. The scale and the scope of the challenge posed by climate change, energy crisis and pandemics will test bilateral cooperation like nothing we've seen before. In the year ahead, Global Bank Group looks forward to capitalizing on increased person-to-person engagement, both at senior levels between the Global Bank Group and the leadership of the World Bank Group, and to energize our partnership and deepen the bilateral relationship. These engagements include building a formal mechanism for coordinating and implementing policy across issues and regions and working together to solve significant challenges. The world expects nothing less from great institutions.